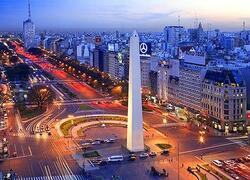 Buenos Aires, Colonia & Montevideo
8 Nights / 7 Days
Buenos Aires, Colonia & Montevideo
INCLUDED:
3 Nights accommodation in Buenos Aires with breakfast, Private Transfers service without guide assitance, Half Day City tour (Shared)
2 Nights accommodation in Colonia with breakfast, Colonia City Tour (shared), Private Transfer service Colonia´s Pier / Hotel Colonia / Hotel Montevideo / Montevideo´s Pier without guide assitance
2 Nights accommodation in Montevideo with breakfast, Half Day Montevideo City tour (Shared)
From 01/02/2023
To 12/30/2023
From u$d 525 *
Consult us
DAY BY DAY:
Day 1:Buenos Aires
Arrival in Buenos Aires and transfer to the hotel and free day to relax.
Day 2:Buenos Aires
Breakfast. Then enjoy a City tour. This tour gives you the emotion of a multiple Buenos Aires. We will see the symbol of our city: the obelisk. We will visit different squares such as Plaza de Mayo, Plaza San Martín. Avenues like Corrientes, Mayo, 9 de Julio, among others. Historical neighbourhoods: La Boca, San Telmo, Montserrat. Elegant neighbourhoods such as Palermo and Recoleta, and the most modern: Puerto Madero. Parks such as Lezama and Tres de Febrero. We will also visit financial and commercial areas and a Football Stadium.
Day 3:Buenos Aires
Breakfast and day at leisure to explore the city.
Day 4:Buenos Aires - Colonia
Breakfast and tranfer to the Pier. Arrive in Colonia and transfer to the hotel.
Day 5:Colonia
Breakfast. You will enjoy a city tour in Colonia: visiting the typical villages of Colonia Suiza, Nueva Helvecia and knowing the Nirvana Hotel, Plaza los fundadores, Santuario dela Virgende Schoenstatt. Then we continue to a farm where we will taste artisanal products of this region. We will visit : Calle de los Suspiros,la Iglesiadel Santísimo Sacramento, Bastión de San Pedro, Polvorín, Faro, Museos Español y portugués, Museo del Azulejo,Rambla Costanera, Real de San Carlos and Plaza de Toros,la Iglesia de San Benito, etc.
Day 6:Colonia - Montevideo
Breakfast and transfer to Montevideo´s hotel.
Day 7:Montevideo
Breakfast. You will enjoy a city tour in Montevideo. Montevideo is the historic yet cosmopolitan capital of Uruguay. Situated on the east bank of the Rio dela Platait is home to half of Uruguay's population. The city has much to offer including the historic Old City with the Plaza Independencia at its heart and its Citadel Gate used up until 1829 to protect the city from invasion. The plaza separates the Ciudad Vieja (old town) with its art deco buildings, colonial homes and landmarks such as the towering Palacio Salvo, from the city's downtown. Explore the covered market of Mercado del Puerto or the Centenario Football Stadium where the first World Cup was played in 1930. Stroll alongLa Rambla, hugging Montevideo's scenic waterfront or may be head to the Beach side suburbs of Carrasco or Pocitos.
Day 8:Montevideo
Breakfast. Check out and transfer to the Pier.
Bye bye Montevideo!
*Check rates according to the following seasons:
Hotel 3*: USD 525 / Hotel 4*: USD 578 / Hotel 5*: USD 1143
TAILOR-MADE, FLEXIBLE ITINERARIES 100%
Rates per person, 2 people in double occupancy.
Please ask for prices in special dates.
IMPORTANT:
From January 2017 the goverment authorized 21% tax over of the hotel room nights
This benefit is only for non-Argentinean residents tourists passengers.
To the reservation it is necessary:
* Add the all passengers information (such as: complete name and Surname, Nationality, Country of residence, Number Passport or id)
* Add Passport copy of each passenger.
This information is very important and obligatory to apply the tax free.
In case of No Show or cancellation after term, the surcharge of 21% tax will be applied.